Back to News & Events
Monaghan Institute
Tourism Learners gain insight into 'The Path to Recovery' for Tourism in Ireland
The Tourism students in MI recently joined a webinar hosted by GMIT titled 'Tourism's future: The Path to Recovery'. This webinar featured an expert panel of speakers and discussed ways in which businesses can recover and rebuild post Covid-19.
Organised and created by final year Tourism Management degree students at the Galway International Hotel School (GIHS) GMIT, guest speakers included Ruth Andrews, Chairperson of the Irish Tourism Industry Confederation (ITIC); Pól O'Conghaile Travel writer, editor and author; Daragh Feighery, GM of Center Parcs, Longford; Tina O'Dwyer, Founder Director of The Tourism Space;  Sinead Collins, Fáilte Ireland; and John Burke, GM Armada Hotel.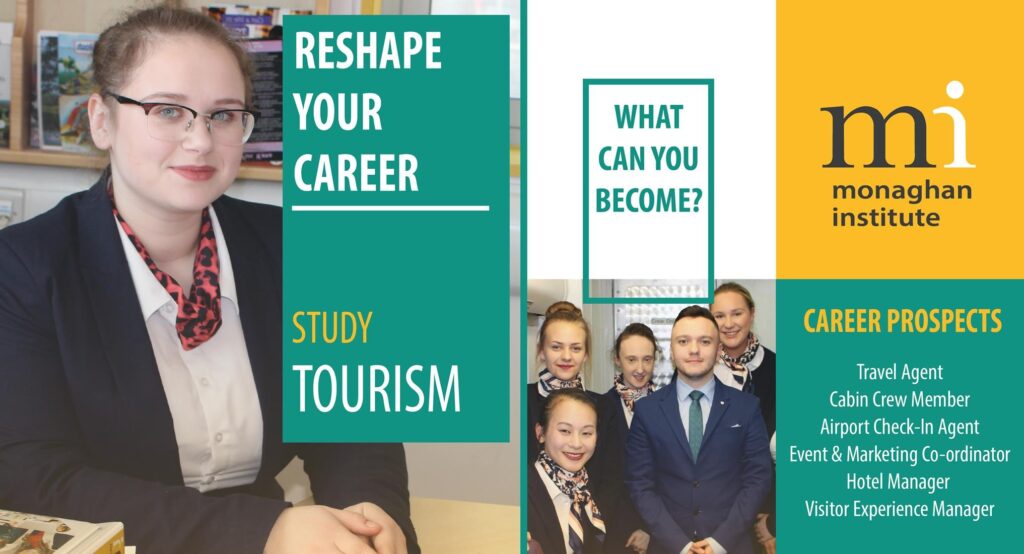 Tourism students in MI found this webinar very insightful as it offered real insight into the future of tourism and the path to recovery for this most important industry in Ireland.
At Monaghan Institute our Tourism Course contains sector related subjects which are taught using a variety of methods including lectures, visits, practicals and role plays. There are also opportunities to participate in field trips to specific tourist attractions. Students will study Cabin Crew Operations and Ready to Fly, with is certified by International Academy of Travel (IAOT). This exciting cabin crew module combines theoretical and practical components including practicing safety demonstrations and serving food and beverages. Students will also engage in training within a mock aircraft.
Applications for the Tourism and all our courses at Monaghan Institute for Sept 2021 will open online in early January 2021.